Susan McCord Aka Dear Sybersue is a Dating/Relationship/Lifestyle Advice Show Host, Published Author, Certified Coach, Blogger & Advice Columnist.
SYBERSUE is a mature woman with a young sassy attitude! She's been there done that and has so many T-shirts she can seriously open a store! 
Susan started writing at 10 years old and hasn't stopped since! She felt very lonely in her childhood despite growing up with 4 siblings. She learned how to put her thoughts on paper to deal with some of the emotional and self-esteem issues most young girls go through in their lives.
Today, Susan is a published author, an Expert Writer for YourTango, Medium, Quora, Mogul, Niume, VocalMedia, The Dear Sybersue Advice Column, regularly contributes to various online magazines, and collaborates with others as a guest blogger. She is always open to new ventures with other like-minded people! <3
Susan appears as a guest speaker at dating venues in the Vancouver area. She has appeared on CBC news, Toronto News Talk1010, Trying to Be Good Roundhouse Radio Show, North of 49TV, Sexat11 RogersTV Toronto, The Love Channel, The Lynda Steele Show CKNW, The Metro, 24 Hours Newspaper and The Vancouver Sun.
Susan was recently named a VIP member of Worldwide Branding. This special distinction honors individuals who have shown exceptional commitment to achieving personal and professional success.
Susan is so passionate about what she does that she left her long-term job as a flight attendant to pursue her YouTube show & advice column/blogging career full time. She also hosts a monthly (pro-bono) support group for women in Vancouver who are dealing with divorce, getting over hurtful breakups, and self-esteem/confidence issues.
Susan has devoted her career to helping others find happiness.
Over the past decade, she has established a stellar reputation as a sought-after dating & relationship expert. Susan has over 18,000 Followers on her Blog but is best known for hosting a lifestyle advice show for an International audience on YouTube.
Her advice show, "Dear Sybersue," has garnered over 3.3 million views which consist of 450 uploaded videos. Susan has a no BS informative personality and also has a great sense of (sometimes warped) humor which she contributes to her show every Wednesday.
Susan has established a large audience via social media & has received acknowledgment from a number of professionals and celebrities. Susan regularly posts videos/blogs that can be viewed on sybersue.com, Twitter, Pinterest, Instagram, and her Facebook page. She is noted for being wise and informative while being simultaneously friendly, down-to-earth & witty!
Susan has been told often that she is an "old soul!" She has been giving advice to others for many years and is excited to be able to transform her natural talent into a career. She plans to do as much as she can in the coming years in order to reach out and help an even larger audience find love and happiness. She is in the midst of writing her second book that is dedicated to single moms.
Susan's goal is to bring people together in a world that is still learning how to love and accept each other unconditionally.
Sybersue is also a dating/relationship coach and is available via  https://www.calltheone.com/susan-mccord for or "in-person" if you live around the Vancouver, Canada area.  Prices and options are listed on her website.
Susan Loves to hear from her viewers and always makes time to answer their comments!
She makes you think! <3

Susan's Published Book "Dear Sybersue" can be found on line at Amazon  & Smashwords
Smashword's Book Interview with Susan McCord
What inspires you to get out of bed each day?
I just love what I do! I can't wait to get going with whatever project I have for the day. Whether it is completing a blog post, editing a video, getting ready for an interview, coaching a client or working on a film set, I am motivated! I learn something new every day which makes me happy!
How do you discover the books you read?
I read a book a week on my iPad and change up my selections regularly. I have a very diverse lineup of books in my e-library and enjoy numerous topics! I tend to go for non-fiction but I also love a good detective story every so often as well.
Do you remember the first story you ever wrote?
I started writing in a diary/journal when I was 10 years old and then started writing poetry shortly after that. I really wanted to write lyrics for music and still hope to implement that into my crazy life one day soon. The first story I ever wrote was for a local contest about life as a single mother.
When you're not writing, how do you spend your time?
I see my son when he is not busy working as a Chef. I am a huge fan of fitness and make it a part of my daily ritual. I go to yoga 3 times per week, weight train 2-3 days per week, ride my spin bike at home and also get outside for 10 km walks/hikes with my grand-dog Murphy and my husband at least once or twice per week. I am also a very social woman and love to attend anything that allows me to meet new people.
I am also a dating and relationship coach and see regular clients, I host a ladies meetup group, attend networking events, and spend quality "girl time" with my friends. My husband is an avid cyclist which I support by cheering him on at most of his events. I also work in the film industry when I am not busy filming my own Advice Show.
What are your five favorite books, and why?
Shantaram by Gregory Roberts The best book I have ever read! Captivating from beginning to end. What a story!
A True Story Life Under the Veil by Jean Sasson: I have read everything Jean has written about women in the Middle East. Her books are eye-opening and should be read by everyone!
A House in The Sky by Amanda Lindhout: A very real & terrifying ordeal about a Canadian woman held hostage in Somalia.
The Kite Runner by Khalid Abdalla: I am drawn to stories about people from Afghanistan and the hard times they have had to face.
Let's Pretend this Never Happened by Jenny Lawson: I like this book because of her humor and interesting writing style. I can relate to her as a blogger.
Where did you grow up, and how did this influence your writing?
I was fortunate to grow up in beautiful Vancouver, Canada. My childhood was the reason I started to write as it was not always an easy time at home. We all have a story that we learn and grow from which is what makes us interesting.
No one escapes this learning curve and that is a good thing for the most part because it shapes us into who we are. This is a new chapter in my life which I am happy and very excited to be in!
Why did you choose to become involved in the dating & relationship market?
Since I was a young woman I have always been asked for advice from both men & women. It may be due to the fact that I grew up very fast and was independent at a very young age. I experienced a lot after moving out of the family home at 17 and then flying around the world as a flight attendant.
Travel is one of the most valuable educations you can have! It teaches you so much about the way people live around the world. The one thing I noticed that we all have in common, (regardless of where we reside) is that we all want love in our lives. It is a universal language and should keep us all in a common bond, but unfortunately, ego, power, and control get in the way of a peaceful life for many people here on earth.
I made a lot of my own mistakes regarding love and relationships and take ownership of how I dealt with much of it.
I was married and divorced at an early age and raised my son alone for 19 years. Single motherhood  matures you beyond your years when you have someone else that relies on you as their life role model! Boy did I learn a ton! My son taught me what unconditional love was all about! I am blessed and grateful to have him in my life. I love him so much!
Even the most successful men and women all deal with heartbreak at some time in their lives. There is always room for improvement within ourselves and we live in a continual learning curve until we get it right. Regardless of each approaching birthday, our need for love never goes away, and nor should it.
I recently met a 73-year-old woman who reconnected with an old boyfriend she dated when she was 23. They both lost their spouses in the last 5 years and are now happy traveling around the world and enjoying a romantic reunion like a couple of teenagers!
This is why I do what I do!
How wonderful life can be when we open doors to all possibilities and remove negativity from a difficult past. Owning your choices and accepting change will keep you on a brighter path to finding a loving partnership. ❤️
What is your ultimate goal and have you had to face many obstacles as a "Mature" woman in your field?
Ha! good question!!
My ultimate goal is to have my own National Radio Show. It would include interviews/inspirational stories, dating & relationship advice, and a charity segment. It would be a "feel good" show to give hope to people in this chaotic world that we live in. It would include all age groups of both men & women. (Of course, there might be the odd comedy segment as I love to laugh and make people laugh as well.)
In an answer to part two of this question:
Yes, I have faced many difficulties with being a mature woman in this business. I could wallpaper my condo with all the emails I have sent out to people trying to get something happening in my business.
Ageism is alive and well but I can slowly see it changing on the horizon. I will not give up in my pursuit because I know I have a valuable business model that can help many people find love, regain their self-esteem and give all age groups a renewed faith in finding happiness.
With each birthday comes wisdom (or so we hope) so why not open your heart by listening to someone who has walked the walk? Why are so many jobs advertised for the 18-35 demographic? I don't get that.
Innovative thinking is the key to success and a diverse lifestyle and that is what I promote in everything I write about or talk about on my show. When we start treating each other as equals and appreciate what all people can bring into our lives, it is when we open our eyes to what life really is all about.
Everyone who crosses your path is there for a purpose, so look up, open your eyes and find out what that is. I don't believe in coincidences, I believe in divine timing!
Sybersue xo
Books by This Author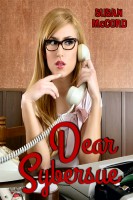 Funny & Informative Dating & Relationship Advice For Men & Women of All Ages! A book written by a mature woman with a young attitude who has been there done that and has so many T-shirt's she could open a store! Learn how to remove negative dating patterns and find the love you desire. It's all about believing you deserve to be in a loving partnership. You can have it all when you believe you can!
One of her other websites is a Vancouver based Dating/Relationship/Advice show 
Email contact: dearsybersue@gmail.com